In today's fast-paced world, meetings and events play a crucial role in facilitating effective communication and collaboration. However, even the most well-planned gatherings can suffer from a common problem: poor audio quality. Push to talk microphones could hold the key.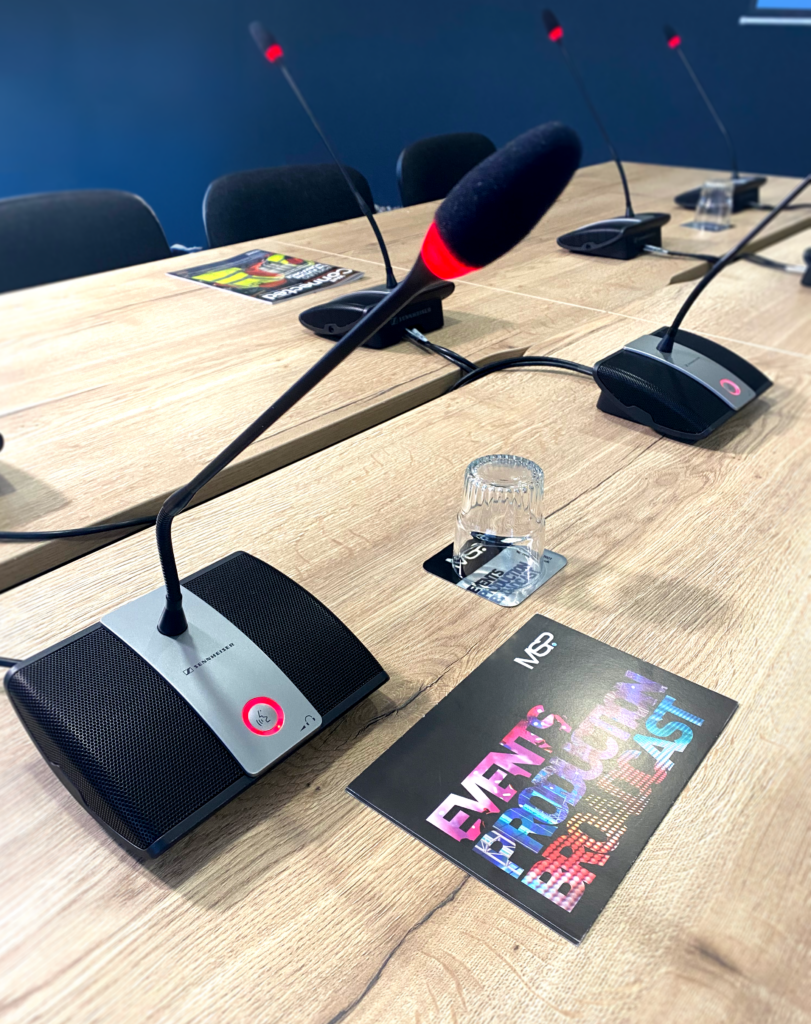 Can you hear me at the back?
When participants struggle to hear or understand the dialogue, their engagement and attention may wane. Intelligible audio is fundamental in ensuring that people can connect with one another and more crucially, to the topic of conversation, preventing both participants and audiences from turning off.
The challenge of confusing audio
When participants can hear and understand each other effortlessly, they become more engaged, actively contribute to discussions, and retain valuable information. Intelligible audio eliminates distractions, reduces misunderstandings, and fosters a more productive and inclusive environment. In large meeting rooms or event venues, ambient noise, reverberation, and poor microphone pickup patterns can degrade audio quality. As a result, participants may struggle to discern the speaker's voice, leading to fatigue, frustration, and disengagement. In roundtable and committee style events with multiple presenters, having only one active voice at any one time is paramount to the smooth running of the discussion, especially if it is being recorded for archiving and future reference. Add in a remote audience whose auditory senses are heightened in order to understand what is being discussed and the powerful significance of intelligible audio is clear.
Push to connect – adding audio clarity
In situations like these a dedicated push to talk conference microphone system is invaluable in overcoming these sonic challenges. Comprising a central control unit and individual push-to-talk microphones for each participant, our conference microphone system is the perfect solution for meetings, conferences and lectures providing:
Crystal clear audio. Our innovative system ensures superior audio quality, capturing every word with exceptional clarity. The microphones feature high-quality condenser capsules that pick up speech accurately and eliminate background noise, guaranteeing intelligible audio transmission.
Intuitive Push-to-Talk Functionality. The push-to-talk feature allows participants to activate their microphones only when they want to speak, preventing unnecessary background noise and cross-talk. This functionality not only improves audio quality but also encourages a more structured and organised conversation flow.
Flexible Configuration. Our system can be easily configured to accommodate meetings and events of varying sizes and formats. Whether it's a small boardroom discussion or a large conference, the system adapts to the needs of the occasion, ensuring optimal audio coverage and intelligibility for all participants.
Seamless Integration. The push-to-talk conference system seamlessly integrates with existing audio setups, making it an ideal choice for upgrading conference sessions and breakout rooms and even streaming events. Its compatibility with other audio devices and conferencing platforms such as Microsoft Teams, ensures a hassle-free implementation process.
By harnessing. advanced microphone technology and intuitive functionality, our conference system ensures crystal-clear communication, eliminates distractions, and empowers productive collaboration in any event – live, hybrid or virtual.
Connect with us to discuss how our versatile conference mic system can help add audio clarity and enhance participant engagement on your next event.